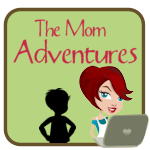 I found
The Mom Adventures
by doing a Google search on Mommy blogs.
She's a single Mom and parenting alone. Her blog was/is inspired by her son, LM who has autism. Beautiful little boy!
She talks about how she was 5'4" and 290 lbs when she left her husband. I love following her weight loss story as I myself have struggled off and on with my weight for almost 8 years now.
She's funny. She's smart. She's real. And she does this thing called "Triple Threat Tuesday". I would post the button and link but for some reason it's not working out for me. Head on over to her site to see what it's all about (hint: it very well could help you find some more blogs to stalk and there's a way to post your blog so more people can stalk you. Win / Win!)